Midsummer Classic Car Run
20th June, 2010
The start at Hingham had 92 cars with 7 Lotus Elans, the most we have ever seen on the Run. Two Stanley steam cars attracted much attention and were later spotted filling up from a stream ant the Lake at Holkham Hall – good alternative to petrol.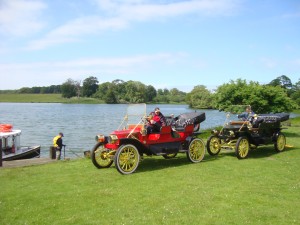 A run to Foxley Wood led on to morning coffee at Reepham Old Railway Station and the most enormous scones ever seen, at very reasonable prices. The day was overcast but no rain.
As usual the route was along little used roads and even those entrants who travel round Norfolk a lot found some new tarmac. We were given a tulip route book but most turns had red arrows put out for us so it was a bit too easy this year.
Next to Heydon Hall and a walk round the grounds with Jezz and Sheila, from a yellow S4, with a view to a pub lunch after. Heydon Village is very picturesque and is often used for film and TV locations because of its unspoilt surroundings. The Go Between and Dr Who have been filmed there. The pub was fully booked because it was father's day so onward to Walsingham with it's 16th century buildings and shrine to Our Lady of Walsingham. Lunch in a café there but no other classic cars around.
Everyone was at Holkham Hall where we had permission to park in front of the Hall.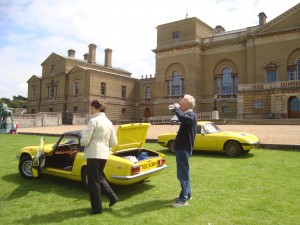 The two yellow Elans had pole position but were asked to move by a group of MGB owners with a portable flag pole.
We by-passed Bircham Mill home of a working mill which also serves quite large scones having been there before and went on to the finish at Pensthorpe where several Springwatch programmes have been filmed. This is the home of the Jordan family who probably make flour for scones along with their meusli.
In the car park we saw a familiar face and were pleased to meet Rob again whom we had last seen on Endurorally's Casablanca Rally last November and before that on the London Dakar Rally. He is off next on the Peking Paris and it never ceases to amaze me how many folk from Norfolk are involved in motorsport in one way or another. Must be the Lotus effect.
Thank you SCCON (scone) for another good day out.