Archive for category Broadland MG
Broadland MG Owners Club heritage run on 3rd May 2010
The yellow Elan took part in this on a very windy and sometimes squally day. The start was at Caister Lifeboat station just north of Yarmouth on the Norfolk coast and with a few "don't roll it overs" we set off to look at the remains of a Roman fort in Caister on Sea.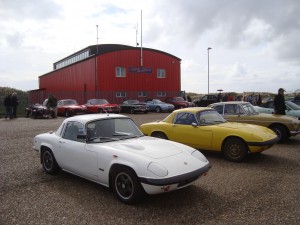 Parked next to Graham Boulton's lovely Elan.
Then on to Great Yarmouth where the fish finger was invented in 1952 – well someone had to.
Two interesting medieval flint churches later, one with a thatched roof, it was still too cold to picnic so along with an assortment of MGs and a Ford Capri we sat in our cars at Ventor Icenorun the old Roman town at Caistor St Edmund (not to be confused with Caister). No wonder the Romans had underfloor heating.
The run finished at Gressenhall Museum of Rural life which has a fascinating display of old farm machinery and buildings, together with a good cup of tea and homemade cakes. A good day out meeting up with friends from East Anglian Lotus club, MG Club and Porsche club.
Brock helps with repairs