Our first trip in 2019 has started badly – the yellow Elan, making its first trip abroad since Tunisia in 2003 has been delayed in transit and will not arrive until a week after the trip starts.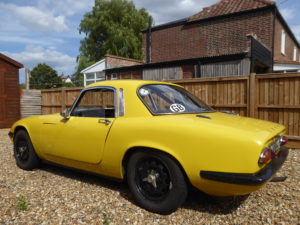 Great! And of course its no-one's fault, everyone in shipping denies any wrong doing but they gave a shipping date, they controlled when it was loaded and unloaded but no, they're blameless and not responsible! So we start in a hire car – I hope but if they are as good as organising that as they were the shipping then I guess we might be walking!
Auckland Harbour and Sky Tower[/caption]
So we now have a hire car – but we can only use it in North Island. And as the local shipping agent says there's no chance of the Elan being available by then, we have to drop the car off at the port in Wellington, go to South Island as foot passengers and hire another car the other side. Why make life easy?
Our first day's drive has taken us to the west coast and overnight in Tairua on the Coromandel Peninsular. We chose the cross country route from west to east over the peninsular so our car is now the dirtiest around as it was gravel track and the dust gets everywhere. After the buildings of Auckland, we visited the natural sights of Cathedral Cove
– a beach accessible only by cliff footpath or boat (a much easier option in the heat), with a huge rock arch. Then to Hot Water Beach where superheated subterranean water lies just below the sand and half the world is digging little sand pools to soak in.
10th Jan – South to Taupo and its hot. First stop the Karangahake Gorge, now a peaceful river gorge with trees and ferns and clear running stream with deep dark pools.
100 years ago it was very different when it was the centre of the gold mining industry and miners dug tunnels into the mountains to extract ore which was then crushed by huge rollers and stamping (crushing) machines before the gold was drawn out using cyanide and mercury.
. Then further on to the Wairere Falls, advertised as a 45 minute walk but nearer to 75 and pretty but …….
11th Jan – the first of two rest days based in Taupo. Today was a geothermal day so we started at Orakei Korako; we arrived at 9.00 and were amazed at the lack of traffic on the road and absence of visitors. There are 23 geysers – but not big water spouts, these are small holes in the ground which might send water about a foot into the air.
They produce pools of boiling water or mud, a stench of sulphur and clouds of steam in a barren silica landscape. yet surrounded by lush bush. Asif that was not enough we then went to the Rotorua area and the Hells Gate complex, which also displayed a range of mud pools with temperatures of up to 120C on the surface, 145C one meter down and signs warning that people dropping litter would have to retrieve it themselves.
12 Jan
13 Jan We left Taupo in the centre for Napier on the east coast; the morning was miserable and itrained as we drove through the desert to Wairou. The cloud lifted a little and we detoured to a ski resort for fancy pictures of grassy slopes and grazing cattle in vain, it was bleak and stony, all the shops were shut and it was completely deserted!
Then to the National Army Museum which had a lot about the "New Zealand" wars of the 1860s, when Maoris and British clashed over land and authority, and the Gallipoli campaign of WW1. It was briefly sunny as we hit the Wine Trail then cloud and drizzle took over as we walked the streets of Napier viewing their collection of Art Deco buildings erected after the earthquake of 1931
Jan 14th – Our import agent had no good news for the Elan and remains convinced we will not see it during our trip. Frustratingly we were only 30 odd miles away from the port on Saturday when the container was sitting n the quayside waiting for administration to begin work on Monday (as we drove ever further away). Our destination was Wellington at the south of North Island. We took the long route via the west coast, stopping briefly at the largest vehicle museum in the southern hemisphere at Paraparaumu with over 250 vehicles, including an Esprit
Supper this evening was at a Persian fast food eatery – cheap as there was no booze!
Jan 15th – our hire car was not allowed to travel to South Island although the rest of our party with pre-booked cars could take theirs – thanks Mr Hertz! So after a drive around the scenic Marine Drive we said farewell to the Corolla and went to visit The Behive (NZ Parliament) and cable car.
We assuaged our cultural conscience with a visit to the Museum of New Zealand with replica Maori meeting house and a Gallipoli exhibition.
Jan 16th – Malcolm and Linda kindly took us to the ferry for the 3 1/2 hours to South Island; then to Mr Hertz to collect car number 2, a RAV4, complete with scratches and dents. Picton Port has the Edwin Fox – an 1850's merchant sailing ship (the world's second oldest) which served as convict transport, troop ship, coal hulk and cold storage depot. Now missing masts and deck, it sits in dry dock and under cover.
We took the scenic route to Nelson along Queen Charlotte's Drive with a deviation to see some of the bays of the Sound then on to our overnight at Nelson
Jan 17th – it was now or never for the Lotus – if we flew from Nelson to Auckland (and flights were available) and if the car had arrived and passed all its clearance requirements and there were spaces on the ferry from North Island to the South then this was about our last chance. The Auckland agent said "its not here yet but might arrive tomorrow midday (or not….). He strongly advised against; so the car after travelling half way round the world will now be shipped straight back home! We spent the morning on a sea kayak trip round Cable Bay and Pepin Island – for sale at NZ$16 million if you are interested. There are no known photos of this experience! In the afternoon we pottered round Nelson, recovering
Jan 18th – the die was cast, returning to Auckland was ruled out so Allison drowned her sorrows with a wine tasting at Cloudy Bay vineyard and an expensive bottle of Pinot Noir but not before we had explored more remains of gold mining at Canvastown – amazing to think of the employment and industry at what is now a peaceful stream.

We also visited the Omaka Aviation Heritage Museum (sponsor Peter Jackson, Director of The Hobbit) for a selection of mainly replica WW1 fighter planes
Jan 19th – after an overnight at Kaikoura we deviated from our route to Arthurs Pass to visit Hertz at Christchurch airport to return the hire car which now had stone chip damage on both driver's and passenger's sides of the windscreen. Now we had car number 3 – how far can we get? We reached our night's stop in the rain and huddled in our rabbit hutch (cabin) as the rain clattered off the roof and flowed over the gutters
Jan 20th – breakfast was late and slow and we left at 9.30. Transport and engineering were the first themes, getting road and rail over or through The New Zealand Alps. The tourist office recommended staying to watch the coal trains labouring up the incline and emerging from the Otira tunnel under load with sparks flying from their exhausts
We continued to the west coast and Hokitika, where Jade (Greenstone) is worked into jewellery and artifacts We continued down the coast to Ross and yet more goldmining relics Our last visit of the day was to Okarito wildlife reserve where we came across this bird resting on a tree – is it the New Zealand Kea?